Ramadas Mallya Enterprises and Mallya Agencies each has over 25 years of experience in the distribution and wholesaling of FMCG and other consumer products in the state of Goa. Adoption of technology across the life-cycle of order-processing and institutionalization of our well-defined operational processes translate into consistently rich results for our Principals as well as our customers. This, coupled with our deep experience in the commercial and operational aspects of distribution and the integrity that provides the base for all our transactions, have helped us earn the reputation and goodwill we enjoy today.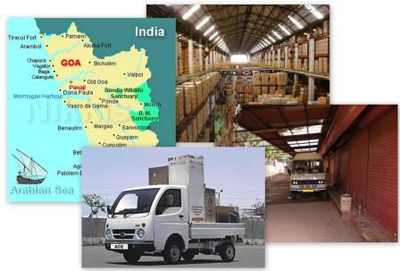 Our infrastructure is capable of serving up to 1,000 retail outlets per month supporting a portfolio of hundreds of SKUs anywhere in the state of Goa. This includes:
Conveniently-located storage facilities within a 3 km. distance of both, NH-17 and Margao Railway Station
Well-maintained cold-chain capabilities
Well-equipped fleet of vehicles to cater to different types of commodities and local driving conditions
Trained teams of delivery boys, merchandisers and salesmen
Centrally-located counter-sales facilities
100% computerized operations for up-to-date tracking and monitoring for our customers, for our Principals and for us
Write to Us or click here for our full contact information.
A History of our Distribution & Wholesaling Business
Our experience with wholesaling and distribution dates back to the early 1970s, when, as part of our then prevailing partnerships (see "Group History"), we were engaged as a wholesaler and distributor for a wide range of financial, consumer and industrial products ranging from UK-based Insurance major Lloyd's, Voltas, Elgi Equipments, Nerolac Paints and Usha Martin Black (manufacturers of steel wires, wire ropes and allied products in collaboration with UK-based Martin Black Ltd.).

Subsequently, we consciously exited this business to consolidate our focus on mining and barge-loading services. Thereafter, in 1991, we were appointed as distributors for for Nestlé India Ltd. for Margao. Since then, we have held distributorships for various companies and products:
ConAgra Foods (previously: ITC Agro-Tech): C&F, Wholesalers & Distributors for Goa
P&G Specialty Division - Duracell & Braun (previously: Duracell India Pvt. Ltd.)
PickWick Hygenic Products Pvt. Ltd.
Premier Tissues Pvt. Ltd.

Currently, Ramadas Mallya Enterprises is the authorized distributor for Margao town for the entire portfolio of products for
Nestlé India Ltd.
, a subsidiary of Nestlé S.A., Vevey, the world's largest food company.
Ramadas Mallya Enterprises: Authorized Distributors for Nestlé India Ltd.
Ramadas Mallya Enterprises has been the authorized distributor for Nestlé India Ltd., for Margao since July 1991. Since then, we have been serving more than 300 retail outlets in Margao every month, supporting a portfolio of close to 200 active SKUs.
We only stock and sell products manufactured and marketed by Nestlé India Limited. For operational & commercial reasons, we do not import or resell products manufactured/sold by other subsidiaries or divisions of Nestlé S.A. and regret any inconvenience caused to you in this regard.
The following are the product groups that we distribute and sell in wholesale:
Baby Foods & Nutrition:* Infant  Milk Formula (Lactogen, Nan), Milk Cereal (Cerelac), Rice Cereal (Nestum), Nutritional supplement for mothers (Baby & Me)
Beverages: Soluble coffees (Nescafe, Sunrise, Cappuccino, Mocha) and Iced Tea
Milk, Milk Products and Chilled Dairy: UHT Toned Milk, Slim Milk, Dairy Whitener (Everyday), Ghee (Everyday), Milkmaid, Dahi and Fruit Yoghurt
Prepared Dishes & Cooking Aids: 2-minute noodles, Cup noodles, Soups, Seasoning (Cubes), Sauces & Ketchups, Gravy pastes, Coconut Milk Powder
Chocolates & Confectionery: KitKat, Alpino, Munch, MilkyBar, Bar-One, Milk Chocolate, Polo, Eclairs
* This is a mere listing of the brands we stock and sell. In direct compliance of the stated policy and practice of Nestlé India Limited and in accordance with the provisions of The Infant Milk Substitutes, Feeding Bottles and Infant Foods (Regulation of Production, Supply and Distribution) Act, 1992, neither we nor Nestlé advertise, promote, distribute or offer any incentives or financial advantages for the sale of infant milk nutrition or any other baby food products.
About Nestlé India Limited
Nestlé India Ltd. is a division of Nestlé S.A., Vevey, Switzerland, the world's largest food company. Although best known for its Lactogen and Cerelac baby foods and for making "Maggi" a generic brand, Nestlé's offerings span a wide range of products catering to all ages and culinary groups.
All the brand names listed here are trademarks and copyrights owned by Nestlé.
For more information on Nestlé India Ltd., visit http://www.nestle.in.