About the Mallya Group of Companies
The Mallya Group of Companies is a family-owned and family-run business based in Margao, Goa.

We are invested in three lines of business:
Emco Goa Private Limited is engaged in iron-ore mining and and barge-loading services to the mining industry
Ramadas Mallya Enterprises and Mallya Agencies are engaged in the wholesale and distribution of FMCG products within Goa
Mallya Farms runs a small-scale dairy & farming operation in Dharbandora taluka
Our founder, Late Shri Ramadas S. Mallya (25.Nov.1920 - 16.Feb.2002), established the Group on 16th September 1957 with his foray into iron-ore mining. Since then, we have grown manifold into diverse businesses, but have continued to live by and operate on the very principles upon which our Founder established and grew the business - viz., integrity above all else and fairness in all our dealings.
In focusing on our businesses, we have been ever mindful of our social responsibilities as well. Consequently, we have been an active contributor to the development of our immediate society & community; both, by way of financial assistance to social initiatives and by way of personal time invested in various activities and institutions. These include holding lead positions in industry associations, local educational institutions and activities and initiatives of social and cultural significance.
Read the story about
the remarkable journey
undertaken by the Late Shri Ramadas Mallya from British India into Portuguese Goa in 1938.
History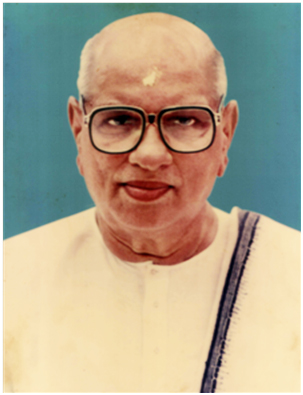 Ramadas Sarvotham Mallya
25.Nov.1920 – 16.Feb.2002
From British India to Portuguese Goa to the 21st Century
Ramadas Sarvotham Mallya was the eldest of four siblings born to Sarvotham and Saraswati Mallya on 25th November 1920 in Uggellbettu - a small village in Kolalgiri district, 12 kilometers north of Udupi in coastal Karnataka.
He completed his matriculation in 1938 from Milagres High School in Kallianpur, another village only 7 kilometers south-east of Uggellbettu, but separated by a river and pockets of dense vegetation.
Following his matriculation, he decided to move to Goa.
His choice of destination was as noteworthy as his journey: not only was the 300-kilometer journey across rivers and the Western Ghats a non-trivial feat given the (lack of) transport facilities of that age, but also, he was crossing over into Portuguese Goa from British India. Without the benefit of any market research or any job portal that gave any indication of employment opportunities!

Thus began the journey of a visionary entrepreneur, dotted with regular accomplishments and built on unflinching integrity, passion for excellence, compassion for every human being that he came in touch with and above all, a sense of fairness in everything he did. To this day, these values continue to be the cornerstones of our businesses and our conduct.

The Early Days

Ramadas Mallya took up employment as a clerk at a local grinding mill in Margao in 1938. He supplemented his income by providing tuitions in Maths to local school children after office hours.

A few years later, he joined a trading company - Subraya & Co. - that was at that time, engaged in the import, export and trading of food grains. His enterprising nature and his integrity did not go unnoticed and he was soon promoted to the role of a Manager. He continued to deliver results and was soon offered a Partnership, which he accepted and invested his savings into the business.

In the late 1940s, following the demise of the founder, Ramadas Mallya was appointed the Managing Partner. Under his leadership, Subraya & Co. grew to successfully and repeatedly defy the "Core Competency Principle" of Strategic Management - it made forays into diverse and unconnected areas and succeeded eminently in all its ventures. Notable among these are his investments - with others - in acquiring and running Matches Goa Pvt. Ltd. and in setting up Tyresoles Goa Pvt. Ltd.

Matches Goa Pvt. Ltd. was the only safety-match making factory in Goa and it also supplied electricity to the town of Ponda! Tyresoles Goa Pvt. Ltd. was established in 1947 as a franchisee of Leicester-based Tyresoles, UK and was engaged in cold and hot re-treading of tyres. He served as the Managing Director of both companies till 1975.

Exploring New Horizons

On 16th September 1957, Ramadas Mallya established "Empresa Mineiro Commercial De Goa Limitada" (Portuguese for "Mineral Trading Enterprise of Goa"), later incorporated under the Indian Companies Act of 1956 (following Goa's liberation from Portuguese rule) as "Emco Goa Pvt. Ltd.". This marked our foray into the mining industry and to this day, mining is our core business and Emco, our flagship company. Emco's current mining operations are focused in Bimbol village along Goa's eastern border in Sanguem taluka.

Following Goa's liberation from Portuguese rule on 19th December, 1961, Subraya & Co. was also incorporated as a private-limited company and diversified into wholesales and distribution for a wide range of products of reputed companies including UK-based Insurance major Lloyd's, Voltas, Elgi Equipments, Nerolac Paints and Usha Martin Black (manufacturers of steel wires, wire ropes and allied products in collaboration with UK-based Martin Black Ltd.).

Meanwhile, Emco' s operations had grown and in 1967, Emco made its first shipment of iron ore to Japan. Thereafter, Emco continued shipping ore to leading steel mills in Japan till 1987 and was also among the first few that exported iron ore to Taiwan. Emco's leading customers included Nippon Kokan KK (known simply as "NKK" - Japan's first privately-held steelmaker established in 1912), Kobe Steel Company (a leading steelmaker and supplier of aluminum and copper products established in 1905) and Osaka-based Nakayama Steel Works (a mid-sized steel manufacturer and pioneering manufacturer of small metal-coating devices).

In 1969, we acquired the assets of Eastern Mining Co. (Mysore) Pvt. Ltd., a mining firm headquartered in Londa in North Kanara's Belgaum district. The firm had manganese-ore leases and mining operations in and around North Kanara's Supa district, in the villages of Terali, Kurundi and Ushoda. Thereupon, exports to our Japanese customers included manganese ore in addition to iron ore.

Consolidation and Present-Day Business

In 1975, we consolidated our investments and decided to exit from Subraya & Co. as also from Matches Goa and Tyresoles to focus exclusively on running and expanding Emco Goa Pvt. Ltd. and its sister concerns, which by then had grown to include Eastern Mining Co., Metco Ores and Mallya Farms.

Mallya Farms was established in 1977. It conducts farming activities - notably, dairy operations and coconut plantations - in Dharbandora taluka.

In 1991, about 15 years after exiting that line of business, we once again entered into the wholesale and distribution business when we were appointed as the authorized distributor for Margao for Nestlé India Ltd. - a subsidiary of Nestlé S.A., Vevey, the world's largest food company.
Since then, the Group has run the distribution for various FMCG companies like ITC Agro-Tech (now, ConAgra Foods), Duracell, Gillette Specialty Division and Premier Tissues India Ltd. Today, the Group has completed close to 25 years of operating Nestlé's distribution for Margao.

If you have any questions about the Group, please write to us.